Ever since its launch in 2016, TikTok has been growing like crazy. Every year, it's gaining more and more users. Statistics say that in 2022 TikTok had over 755 million users worldwide. That's an overwhelming amount!
This staggering growth became the primary motivation for many businesses to create content for this platform. From tiny local businesses to big corporations, everyone is jumping on the TikTok wagon. After all, it's pretty much the only social media platform where every creator can reach a broad audience fairly quickly.
One way to gain an audience of loyal fans on TikTok is to trust its algorithm to do the job. Another one is encouraging people to interact with your content by organizing a TikTok giveaway. And that's what we'll talk about in this article.
In this article, we'll explain how to run a TikTok giveaway in a few steps - and how Socialman can help you do it even more efficiently.
Let's dive in.
Run your own giveaway!
How Running a TikTok Giveaway Can Benefit Your Business
Running a TikTok contest can help your brand and business in many ways. In fact, giveaways are one of the most effective ways to grow your audience.
Giveaways let you increase your following either within the platform or outside of it, for example, by having people subscribe to your YouTube or Twitch channel for a chance to win.
This is also a fun and effective strategy to build brand awareness around your business or products and create an interactive experience that will inspire your followers to engage with your content.
In short, running a TikTok giveaway can not only help you grow an audience within or outside of the platform but also improve engagement and build a better relationship with them.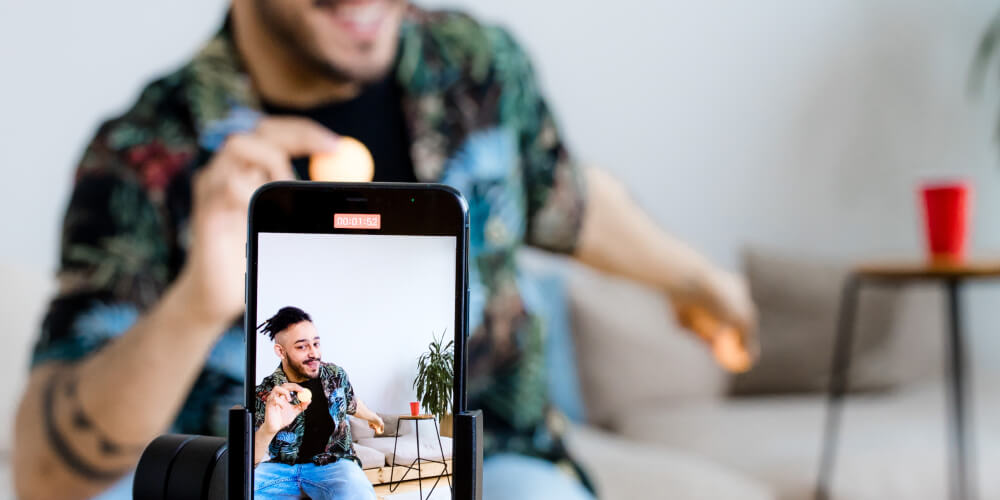 Things to Consider Before Launching Your TikTok Giveaway
If you have ever organized a giveaway, you'll know it can be really fun! It's easy to get carried away with the organization and promotion of your giveaway and skip a few tiny details that may be important.
Here are a few things you need to pay attention to before diving headfirst into organizing your giveaway contest.
Make the official rules of the giveaway easily accessible
When hosting a social media contest, you want to ensure everyone knows the rules. You can do so in two ways:
Make a TikTok video explaining the giveaway rules and pin it to your profile.
Create a giveaway landing page where you explain the rules and post a link to this page in your profile bio - but there's a catch: you can only add a link to your TikTok bio if your business profile has over 5,000 followers.
Get familiar with TikTok's Community Guidelines
Like any other social media platform, TikTok has platform-specific community guidelines that you must adhere to as a TikTok user and creator. So before launching your giveaway and asking your followers for their video entries, make sure you're familiar with community guidelines.
Avoid copyright infringement
While TikTok is well known for making certain songs or sounds viral, it's pretty strict with its copyright policy and intellectual property laws. So, make sure that you don't require your TikTok audience to use any copyrighted music, images, or logos in their entry videos.
How to Run a TikTok Giveaway with Socialman
Creating a successful giveaway on TikTok is similar to how it's done on other social media platforms. If you've organized a social media giveaway before, you're probably familiar with the process. With Socialman, it's even easier than you think.
You can launch and complete your TikTok contest in 6 steps:
Choosing the prize
Defining the rules
Setting up your TikTok giveaway
Promoting your TikTok contest
Monitoring the entries
Picking the winner (or winners)
Let's go over each step in detail.
Step 1: Choose the giveaway prize
The prize is the first thing you want to decide on before launching your giveaway. What you'll give away largely depends on your contest goals and your business model.
For example, if you run an online store, you might want to reward your winner with one of your products for free. If you run a service-based business, you might want to give away a free 1-on-1 consultation with you or someone on your team.
It can be pretty much anything as long as it's something your participants would really like to have. The more valuable the prize, the more entries it'll attract.
Step 2: Define the entry rules
The next - and probably the most important - step is to define the contest rules. Defining those rules will help you keep everything under control and avoid organization chaos - especially when thousands of entries start to flood!
There are a few things to think about:
Who will be allowed to participate? Define age, location, and other restrictions your entrants must fulfill.
How will people enter your contest? The options can range from creating a TikTok video with a branded hashtag to subscribing to your YouTube channel.
How will you choose the winner? Will you assign points for every entry and select the TikTok user with the highest score? Or will you choose a winner at random?
When answering these questions, choose whatever aligns best with your giveaway goal.
For example, if your goal is to gain more subscribers on your Twitch channel, you can ask your TikTok audience to subscribe to your channel to enter the giveaway. If you want more views on a specific TikTok video, you can make viewing and commenting on that video an entry requirement.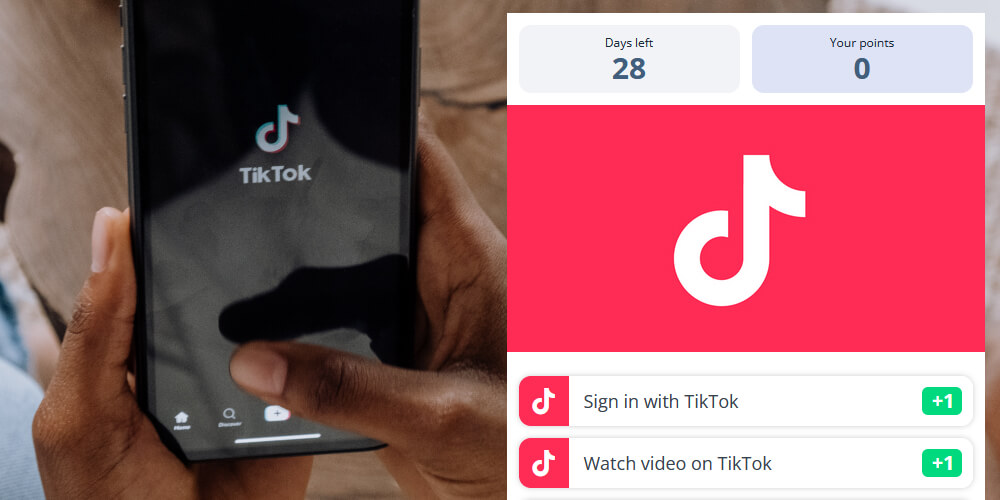 Step 3: Set up your giveaway with Socialman
Once you've got everything properly planned, it's time for the fun stuff! You can use the Socialman platform to set your giveaway in just a few clicks. It's as easy as 1,2,3… and 4!
1. Set it up
Start by setting up the name, dates, and prize of your giveaway. This is a pretty straightforward process. No explanation needed!
2. Select entry options
Here, Socialman lets you choose the entry options. You can choose from the default TikTok action types: award a participant for signing in to your app or platform with TikTok or watching a TikTok video of your choice.
You can also award your giveaway participants for actions taken on other platforms, such as following you on Instagram, sharing your photo on Twitter, or subscribing to your channel on Twitch.
Another fantastic entry option you can select is the viral share. It allows you to award your giveaway participants an extra entry point for every friend they refer to your contest. This is a great way to encourage people to spread the news about your giveaway!
3. Customize the campaign
Socialman creates a URL where it'll host your giveaway. You can customize the look of the giveaway landing page by adding a contest-specific photo, choosing the background, and even selecting the dark mode (it looks pretty cool!).
4. Add the legal stuff
Adhering to the legal requirements when hosting a giveaway is essential. That's why Socialman lets you add the terms & conditions to your contest. You can write your own or use a ready-to-use terms and conditions template generator. You can also restrict your giveaway by location if needed.
Step 4: Promote your giveaway campaign
Once everything is decided and correctly set up in the giveaway tool of your choice, it's time to schedule your campaign! It'll go live once the clock strikes the time you set up.
But it doesn't mean that you should just sit back and wait for the entries to start coming in. You don't only need to announce your special giveaway to your followers (duh!), but you also need to promote it - especially if you want it to reach a bigger audience!
So, here are a few things you can do to promote your TikTok giveaway:
Share your TikTok giveaway on other social media platforms where your audience likes to hang out.
Make a giveaway post on Instagram, Facebook, or Twitter.
Create a TikTok video promoting your giveaway campaign and ask people to tag their friends in the comments for a chance to win.
Share your giveaway video link in an email newsletter.
Reach out to an influencer who might be interested in sharing your giveaway with their audience.
While it may seem like the right move to wait until your giveaway is live to start promoting it, we don't recommend doing that.
In fact, it's best to start promoting your giveaway a few days, or even weeks, before its launch date. This way, you'll be able to create anticipation and hype your audience up for a chance to win a cool prize! In addition, this will help you gain better engagement later on.
You can start teasing your giveaway in a few TikTok videos or Instagram stories a few days before launch and then make an official giveaway announcement once the TikTok campaign goes live.
Step 5: Monitor the entries
Monitoring who's taking action on your giveaway contest and watching the entries flood in is not only exciting; it's also necessary to ensure that everything is going well.
After your TikTok campaign is live and your contest is running wild, you'll want to make sure you stay on top of all the entries. Socialman lets you keep track of the entries and gather analytics that you can easily access from the dashboard.
In addition to tracking the entries, you should monitor key metrics like views, shares, and new followers. After all, you're looking to gain something out of this - whether it's more brand awareness, an increase in website traffic, or more followers on other platforms.
Step 6: Pick the winner(s)
Picking a winner might seem straightforward, but it actually requires you to go through a few steps to make sure it's done fairly and properly.
Verify all the entries
You'll need to make sure that all entries meet the eligibility criteria you set at the beginning of the contest. This means checking whether each entrant has followed the rules and completed all the steps.
Check for duplicate entries
If people aren't allowed to enter your contest more than once, you'll need to check for duplicate entries. You can make sure there aren't any duplicates by reviewing the entry list with Socialman.
Choose the winner
This is the fun part! If you're hosting your giveaway with Socialman, you can choose the winner in three different ways:
completely at random (so everyone has equal chances of winning),
by the number of points (the highest number wins), and
manually (if, for example, the criteria was a video submission for the best dance).
Notify the winner
Once you've selected the winner, notify them via TikTok private message or email, and provide clear instructions on how to claim their prize. You can also announce the winner publicly on your TikTok account or other social media platforms to generate excitement and increase engagement.
Follow up with the winner
This is optional, but it's a nice touch to finish a successful giveaway. A few days after the contest winner claims the prize, you can follow up with them. This strategy may not be applicable in your situation. But if it is, you can use this opportunity to make sure that the lucky winner is satisfied with their prize.
Create Your Giveaway with Socialman
While running a TikTok giveaway is a fun and exciting process, it's easy to get overwhelmed with all the organizational and technical details.
After all, it's not just about watching all the fantastic entries from your followers. It's also about making sure you can track everything without losing entries, choosing the winner fairly, and measuring how the giveaway is contributing to your end goal.
That's where Socialman comes in to save the day! Socialman is a powerful giveaway tool that allows you to run contests on various social media platforms (TikTok included) with just a few clicks.
With Socialman, you can easily set up your TikTok giveaway, track entries, add an end date, and choose the winner. So give Socialman a try for free!
Run your own giveaway!