The world of internet marketing is filled with many different opportunities for businesses to generate leads and promote themselves. One strategy that has been gaining popularity recently among small businesses is giveaways.
Giveaways can be a great way to build awareness around your brand, create buzz about your company, increase visibility on social media channels, and get people talking about you online!
They are also a great way to increase engagement with your followers or potential customers. From social media contests for free product samples to themed competitions on your website, giveaways can be an effective and fun marketing tool.
However, the process of organizing a giveaway can sometimes feel overwhelming. There is often a lot of work involved in setting up and running one - especially if you don't have experience in this area!
Here's the good news: There are plenty of online platforms that offer tools to help make it easier! In this blog post, we'll discuss a few types of platforms that will help make the process easier so you can focus on what's really important - generating more sales!
Run your own giveaway!
Giveaway Picker
Random Number Generator
If you're holding a luck-based promotional giveaway, it's important to have dependable and reliable methods for choosing random winners. There are a lot of easy ways to do this if you just know where to look! The method you choose will depend on the type of giveaway.
For simple giveaways that need to be as quick as possible, the best option is using random number generators. All you have to do is assign every entry a number and then use a generator to find the winner based on matching numbers.
You can use Google's Random Number Generator for quick and easy results.
Random List Picker
Another possible way to determine winners for an online contest that you're already running is to use online list pickers and random number generators.
However, these methods still require you to physically tally and collect all of the submissions, which takes significantly more time than is necessary. Plus, getting participants to do several entry actions can be difficult.
Picking Random Comments
It's possible to run comment contests in a variety of ways. Some example forms include:
Answering questions
Responding to prompts
Sharing ideas
Giving feedback or tagging friends
If you're running a comment contest where winners are manually chosen, then picking a winner is simple as it relies on your opinion. However, most of the time, you'll want to choose a winner at random from the comments.
Then applications such as the Comment Picker may come in handy.

When you want to randomly pick one comment from a collection of many, this tool might be perfect. However, when you are running a contest that requires more thought and care in order to generate the best possible results, there are better options out there!
Giveaway Bot
What does a giveaway bot do?
The giveaway bot is a simple bot to manage giveaways, as it allows you to start them directly from your current channel on Discord and has customizable commands. It's an easy-to-use tool that comes with straightforward setup instructions for your server.
Its biggest disadvantage, however, is that it is quite a basic tool and does not have many extensive functions. Additionally, you can only use it if you organized a Discord contest.
List of giveaway bots:
Giveaway Bot
Santa Lunar
Prism
Amaribot
Giveaway Maker
Giveaway makers are the most complex type of contest platform. They guarantee you help with all different aspects while making a giveaway.
With so many different features, giveaway makers are undoubtedly the most compound type of contest platform.
They provide assistance in all of the different areas like winner selection, integration with email marketing software, statistics - that all might be beneficial to your business.
Socialman is one of the best contest platforms designed to create giveaways through different social media channels. It's easy to use and has all of the features you'll need to organize a successful giveaway contest.
Unlike other programs, Socialman has no restrictions on the number of contests, participants, accounts, or actions that can be used in your giveaway.
Picking Winners with Socialman
Socialman allows you to choose between two types of selecting the winners: randomly and manually.

If you choose to randomly select the winners, you will have two options: you can randomly pick a winner from the pool of participants or pick from only the highest point values.

Manually selecting winners will allow you to select winners from a CSV file with a list of all participants.

The procedure of randomizing users is completely computerized, providing a completely fair conclusion. If you select Choose a winner randomly from participants with the highest points the winners will be lined up according to the number of points they have accrued and a winner will be randomly chosen from each category.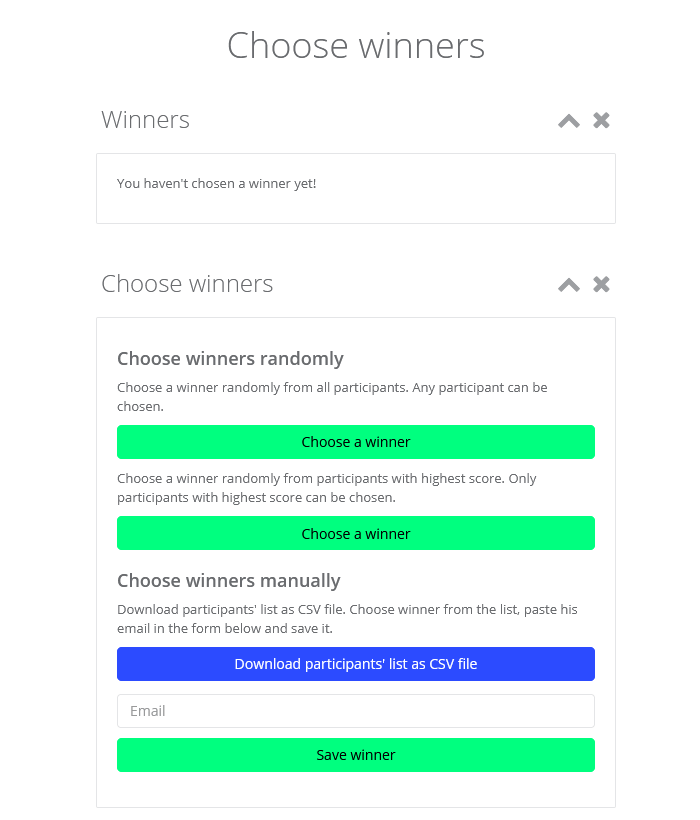 Summary
As you can see, there are many great platforms to choose from. Whatever your goals for the giveaway and budget might be, these contest tools have some of the best features in the industry just waiting to help you succeed!
We hope this post has been helpful in your decision to choose the best giveaway platform for you. If you're still on the fence, we recommend trying out a trial version of Socialman and seeing how our service can help with organizing your next contest. You won't regret it!
Run your own giveaway!