Visuals are important. Your fans, clients, or website visitors, like every human, will prefer visual content than text. Good visuals are engaging, memorable, and will help you to drive leads. The recent rise of video content, memes, and social platforms based almost solely on images and videos like Instagram, or Tik-Tok are just another proofs for that. Having the outstanding visual content is crucial if you have a website, blog, or social media profile.
The way to get good visual content for your website has changed significantly over the past decade. Old good times when you had to organize the DIY session asking your friend photographer for a favor are gone, and definitely, nobody will miss them. The big stock photo companies like Shutterstock, Adobe Stock, iStock, and Fotolia have dominated the market of royalty-free photos, leaving almost no space for competitors. Their strategy also evolved form relatively cheap plans or a one-time purchase policy, to vast pro plans, often too pricey for small or emerging brands.
Luckily there are still some good websites where you can find good, creative, and high-quality images totally for FREE. Each of them has its specifics that we will try to explain.
Run your own giveaway!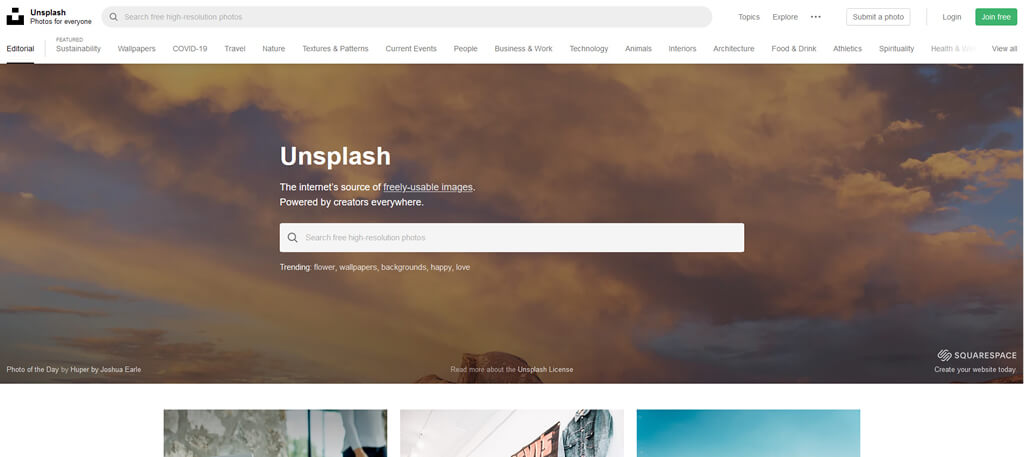 Unsplash has a clean and very handy interface with a great search engine. You can search using multiple parameters, like image size, orientation, topic, or dominating color.
All the photos have very good, professional quality and very often an artistic look. They will be good enough for your social media posts, landing pages, creative ad banners, or blog posts. The website has thousands of contributors, depending on the category, which makes the base of images really huge.
Let's took a closer look at its content. Typing 'New York' in the search bar you will receive about 22.4k photos. That's really impressive amount. You can definitely find great landscapes, wallpapers, city, architecture, or food&dring photos. The important factor, however, is how many pictures with people, namely: portraits, or pictures related to business and work topics, can be found there. These pictures are very often made for profit and sold, so contributors are less interested in publishing them for free. Categories related to people or work also contain a lot of records, but a specific search can be a much more difficult task. For example, 'woman with a phone' (you may need it for your website, don't you?) search returns 57.5k records, but looking at them you may find many showing the phone in hand only. Still, when you scroll down, there is plenty of good pictures too choose from. Well done!
Unsplash does not have any limits regarding the use of photos, mentioning the author or the source is not mandatory. All pictures use the CC0 (Creative Commons Zero) license and therefore there are practically no limitations regarding the use, editing, or changing them.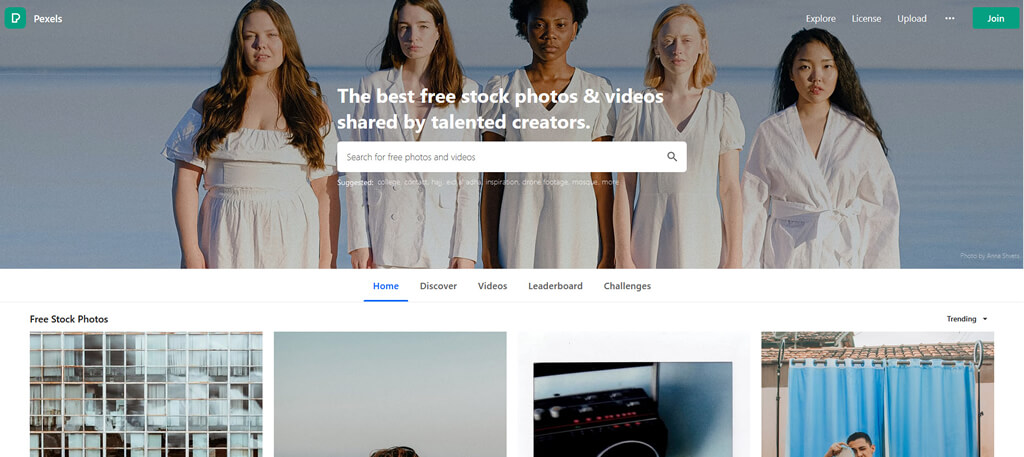 Pexels is another large free photo database with lots of interesting content. Performing the same searches as above we received as follows: the search for 'New York' returned only 556 records, whereas the search for 'woman with a phone' gave us a number of 10k records. The numbers were much lower than on Unsplash, so let's dig some more and have a look at results.
On Pexels, search engine and tagging seem to be very accurate and giving very satisfactory results. The results for 'woman with a phone' still show good, well-composed, frontal photos with faces, after scrolling the page several times.
Pexels like Unsplash, use very intuitive design and search bar, has a pretty straightforward download process, and lets you save the image to favorites.
The images also use the same CC0 license policy which means you have no limits regarding their usage, editing, resizing, or changing.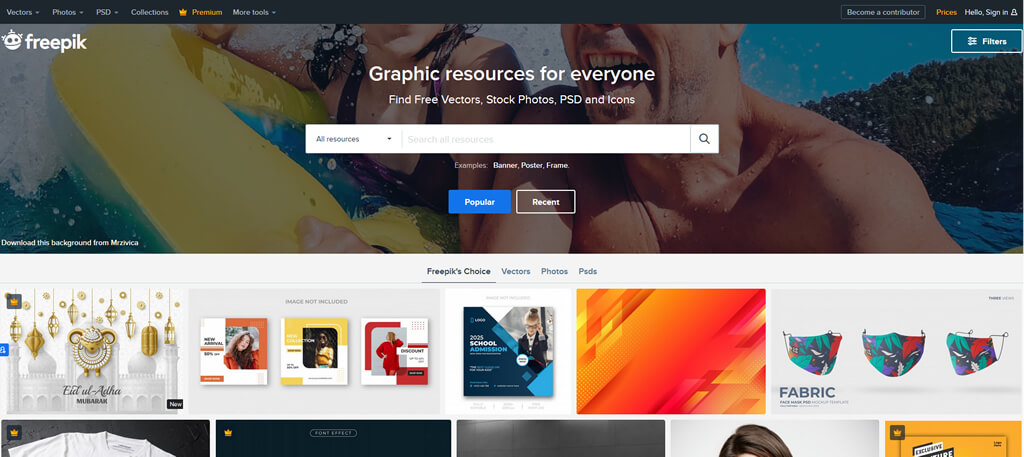 Freepik has some advantages over others. It has vectors, icons, and even PSD files. It seems to be closer to Adobe Stock or Shutterstock, containing more content that can be used by professionals.
Both searches performed here have given us the number of about 8-9k records each, but the results inside seem to be far less accurate. The same search for the Big Apple views shows a lot of photos loosely related to the city, even on the first page. It's far more complicated to find a good Manhattan skyline. Looking for a female smartphone user we received much better results with very interesting photos. Here's another surprise, whereas others offer mainly pictures with natural light, the results on Freepik seem to be more professional. Photographs very often show models posing in the studio, with good lighting, and on solid backgrounds. These pictures do not have this artistic look but they can be more interesting for professional purposes and further editing.
The pictures are free but you have to remember about mentioning the author, or the source by adding the required information along with a picture. The main disadvantage of Freepik is the download limit of 10 photos per day. This can be lifted by buying the paid account for $9.99 per month (or $89 annually). The paid account has also the access to over 8 million additional images in Premium content.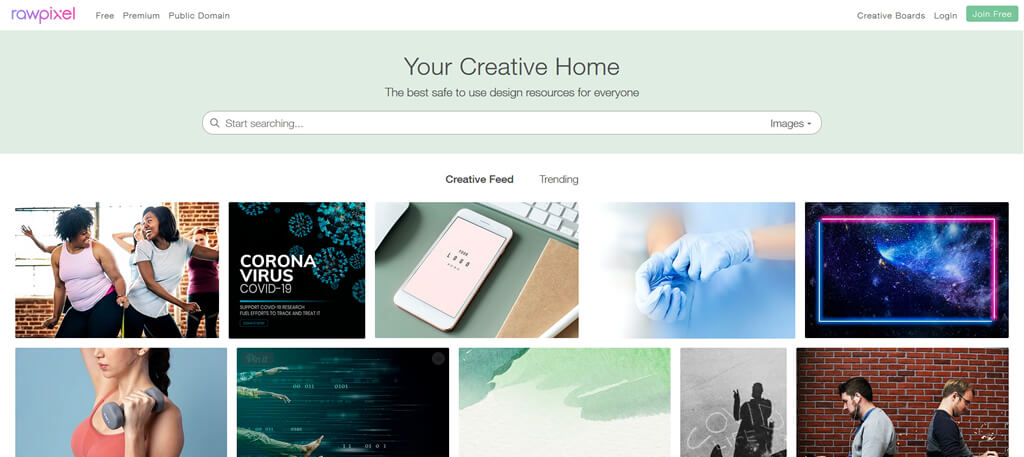 Rawpixel uses a great clean interface and a very handy search bar with lots of options. It also offers graphics, icons, PSD files, vectors, mockups, and templates. Rawpixel offers also the same features as the other websites, like saving the image to favorites and pinning it to Pinterest.
The search bar contains some predefined image ratios to make the search easier and faster. The database is huge and the search results are very good and accurate. Both searches we did on other websites returned 1.8k/62k results with very quality photographs.
The images are placed in two collections Free and premium, the images in the free collection are free for personal or commercial use. Like Freepik, Rawwpixel also has a daily download limit of 10 images from the Free collection. To avoid the limit you can buy one of the paid plans with additional unlimited access to Premium collection images for personal use ($3) or for commercial use ($19).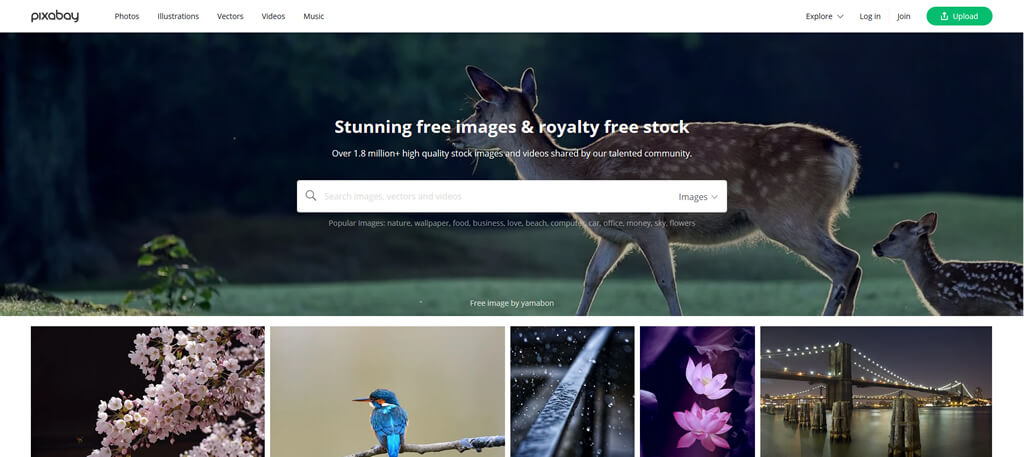 Pixabay is another website with free graphic stock photos. It contains an intuitive navigation bar with well-described categories.
Pixabay also offers a huge amount of content. Looking deep inside and performing our search again we received interesting differences: the result for New York is pretty similar and accurate as on other websites, but there are significantly fewer pictures with people.
Considering this Pixbay is still another great source of free images and photographs for your website.
Run your own giveaway!