If you are running a WordPress website, you will need to find the best WordPress giveaway plugin to run your viral campaigns. Giveaway plugins for WordPress allow you to run a giveaway contest on your website efficiently. They allow you to maximize the incoming traffic and help you get tons of new visitors. In this post, we'll show you the most excellent WordPress giveaway plugins to increase traffic, gain subscribers, and boost your brand's reputation.
Run your own giveaway!
Tips for choosing the best WordPress Giveaway Plugin:
Look for a plugin that is easy to use and configure.
Ensure the plugin has a good reputation and is well supported by the developer community.
Choose a plugin that offers excellent features and flexibility.
Make sure the plugin is updated regularly with new features and bug fixes.
Most giveaway and contest promotions aim to generate leads and enhance email subscribers. Therefore seek plugins that allow you to link your emails with ease.
You should choose a plugin that is affordable and includes all of the features you'll need to run a successful giveaway campaign.
One of the essential features to search for in a plugin is social sharing, as it aids in the promotion of your giveaway and increases social followers.
Creating a successful viral giveaway is no easy task. There are plenty of WordPress plugins out there, but not all have what you need to create one that will work for your needs and effectively get as many people engaged on social media or sign up with their email address so they can enter!
You want one that has everything without breaking your budget- so make sure it's reasonable before downloading any further than necessary to find what works best with both cost and functionality requirements needed when running these giveaways.
With that in mind, let's take a look at the most OK WordPress contest, sweepstakes, and giveaway plugins.
Socialman is an online platform that allows you to run giveaways and competitions through various social networking sites. Socialman is compatible with Facebook, Twitter, YouTube, Instagram, Pinterest, Vkontakte, Steam, Discord, and Twitch.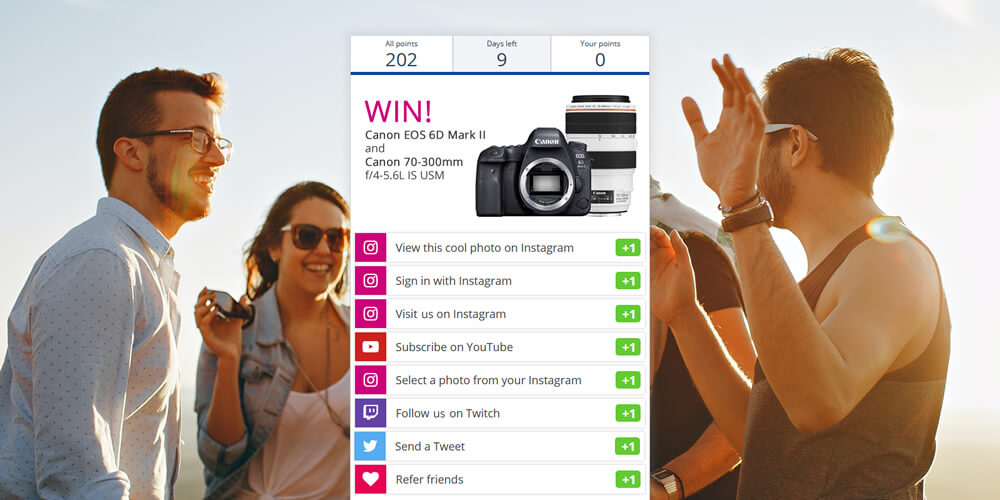 The tool is simple and requires no coding or software expertise. The amount of giveaways a person can provide is unrestricted with Socialman, and it can be easily connected with a basic log-in framework. There is no need to copy and paste URLs, and the program supports 14 different languages. It also offers information and analysis on the user's giveaways' success.
Note: To use this plugin, you'll need a free Socialman account.
How to install it?
Go to the Plugins menu and type 'socialman' in the search bar. Once the plugin appears on the list click 'install'. Alternatively, manually install the plugin downloading the zip file and uploading the 'socialman' folder to the /wp-content/plugins/ directory.
Activate the plugin in WordPress in the Plugins menu.
Set up a giveaway at Socialman. Go to the dashboard and copy your giveaway URL when you're finished.
Add the giveaway widget to your website or blog with a custom Socialman block in Guttenberg. Choose the block, paste your giveaway's URL into the text field, and save it. You can also use the shortcode block with the shortcode listed below.
To add the widget to your website or blog, use the shortcode below in the classic editor. Replace the shortcode's URL with the URL of your giveaway.
Pricing: The basic plan is completely free. However, if you want all the powerful features, you can choose between the Standard ($10 per month) and the Pro plan ($29 per month).
KingSumo
This plugin is another excellent WordPress giveaway plugin that you can run your contests. It helps you increase traffic, get subscribers and improve brand image. You can create beautiful giveaways in minutes, and no programming is required.
It has Facebook, Twitter, Facebook Messenger, and Instagram social sharing options. It also integrates with several leading email services to help you expand your email list.
Pricing: The SaaS giveaway software is priced at $228 per year. The WordPress plugin version comes with a one-site license for $198 or an unlimited site license for $594.
This plugin allows you to run a WordPress giveaway and sweepstakes on your site by offering free products or services. You can customize the contest's design, add rules and restrictions, choose from over 100 designs for the campaign page, special prizes that visitors will receive when they win individual contests, etc.
alt text: Woobox-Best-WordPress-Giveaway-Plugins
Pricing: WooBox provides a free WordPress plugin and a WP shortcode. Their paid plans vary from $37 to $249 per month.
Rafflecopter
The software is a SaaS app which means that to add the giveaway widget to your WordPress site, use a code snippet.
It is compatible with numerous email marketing services and integrates popular social media platforms. Rafflecopter also includes a refer-a-friend option and polling and survey options.
Pricing: Basic plan costs $13 per month, but if you want email integrations, you will need to choose their Grow plan ($43 per month). The premium plan is $84 per month.
Gleam is a popular WordPress giveaway tool that provides various marketing solutions to website owners.
It has powerful sweepstakes and competition builders to create exciting giveaways to increase website traffic and email subscribers.
With its powerful sweepstakes and competition builder, you may use it to create exciting giveaways to increase website traffic and email subscribers.
Note: To install this plugin, you must first go to Gleam, sign up, and establish a competition before embedding it in a post.
Pricing: The cost of a Hobby plan is $10 per month (but you have to pay $120 for the whole year!), the Pro plan is $49 per month, and a Business plan is $149 per month.
Conclusion
You may run giveaways on your WordPress site using the above solutions. They, however, vary in terms of features, ease of use, speed, pricing, and privacy. We consider Socialman the ideal WordPress giveaway plugin for all users. It's effortless to operate, and you will find it helpful in many cases.
We hope that this article has helped you find the best WordPress giveaway plugin for your needs. If you have any questions, feel free to leave a comment below. Thanks for reading!
Run your own giveaway!