One of the best ways to promote your brand, business, or message is to host a giveaway or contest.
This marketing option is fun, affordable, and easy to run. The benefits received far outweigh any of the costs involved when they're managed correctly. You gain more customers, email subscribers, social media followers, and even revenues from new customers.
The issue most firms experience with their giveaways and contests is this: a lack of promotion.
You must market your giveaway for people to find it. In this article, we'll share with you 14 great giveaway websites where you can easily promote your giveaway.
You may be asking yourself, "Do giveaways work?" You're in luck because we have compiled a list of the best websites to promote your contest. No matter what you are looking for (giveaways, contests, or even sweepstakes), there is something here for everyone. If you plan on hosting a giveaway anytime soon and want to give your brand some exposure then this article will help get it done!
Run your own giveaway!
1. Social Media
You already have relationships with your followers on Facebook, Twitter, Pinterest, LinkedIn, Instagram, and the other social media channels you're active on right now. Submit your giveaway contest on your profile, promote it with images, and get a video on YouTube if you can.
This combination is highly shareable, which offers the potential for viral traffic and plenty of traffic.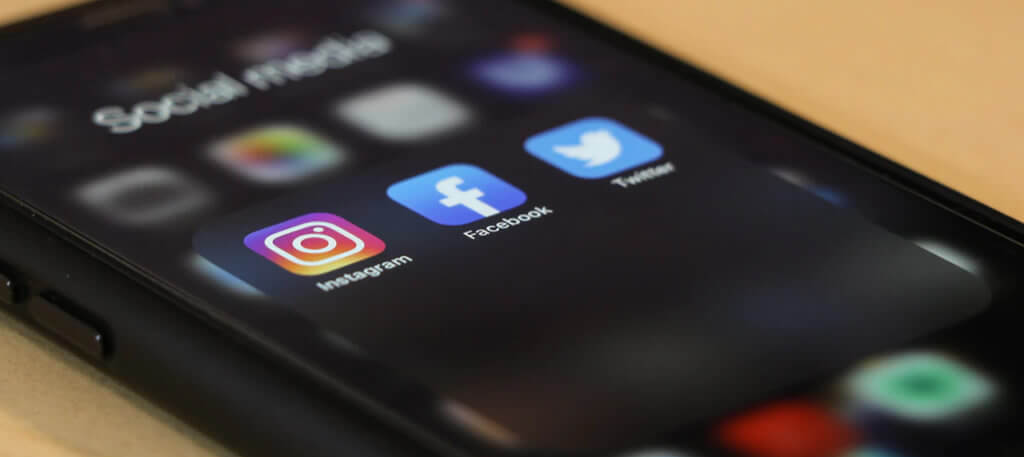 2. Reddit
This platform is a magical giveaway promotion service. It only requires a minimal time investment to provide plenty of traffic for your marketing effort.
The only issue is that self-promotion is strongly discouraged on Reddit.
Here are some strategies that can help you work around this issue to take advantage of the platform's high traffic levels.
Spend time on active subreddits which are related to your business, giving you opportunities to build relationships.
Ask permission from the admins and mods before posting anything remotely promotional about your giveaway.
Talk to your friends about upvotes, but remember that organized activity like this is also frowned upon by the site.
Every subreddit likes different types of content posted too. Some prefer case studies, while others love statistical posts. You won't know until you start discovering the personalities of each conversation chain.
Reddit has specific giveaway subreddits where you are allowed to post links to your contests. The most important are /r/giveaways and /r/sweepstakes.
You should match the subreddit rules when posting which means adding the giveaway end date in a specific format. You could also try to post them on popular other subreddits if their topic is related.
For example, some gaming subreddits accept giveaways of games or in-game items.
It's worth the effort. If you're blogging to promote your giveaway, try using a free tool like this Reddit converter for automatic formatting to save some more time.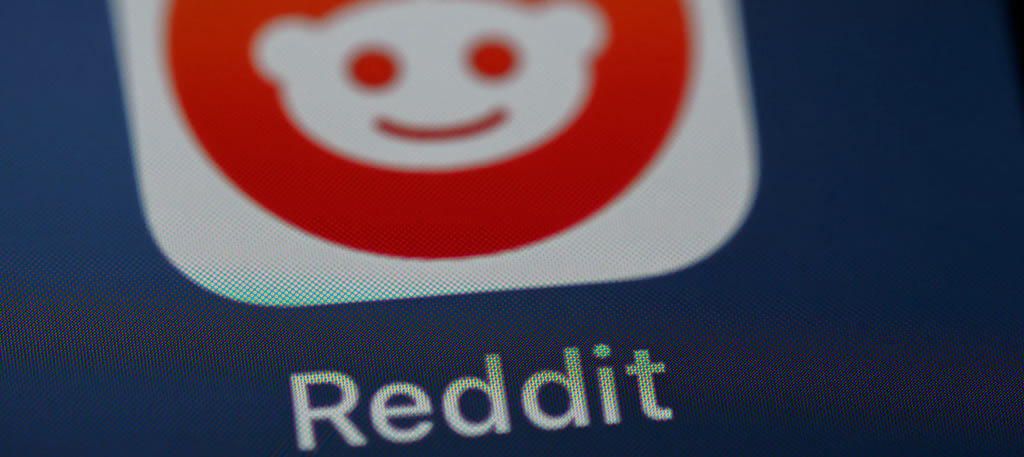 What are the other contesting websites to post your contest?
This extensive website focuses on giveaways in Canada or the United States. There are daily categories of new and expiring sweepstakes which help to pull some traffic. Your prizes are also categorized to generate interest. As of May 2021, the website is not responding and we do not know what the further fate of the application is.
A membership is required to post your giveaway, but it is a free account, and the process only takes a couple of minutes to complete. You'll find plenty of expensive promotions available here, so it is definitely a site worth considering.
This site makes it simple to promote your giveaway. You must provide information about the event, including a direct URL, along with any restrictions you may have.
You're permitted to log in to post your contest (Contest Girl requires a free account).
If you do sign up for a free profile, then you can add private notes to any item on your list. There's also the benefit of adding direct links to your listings which are not possible with the main listings.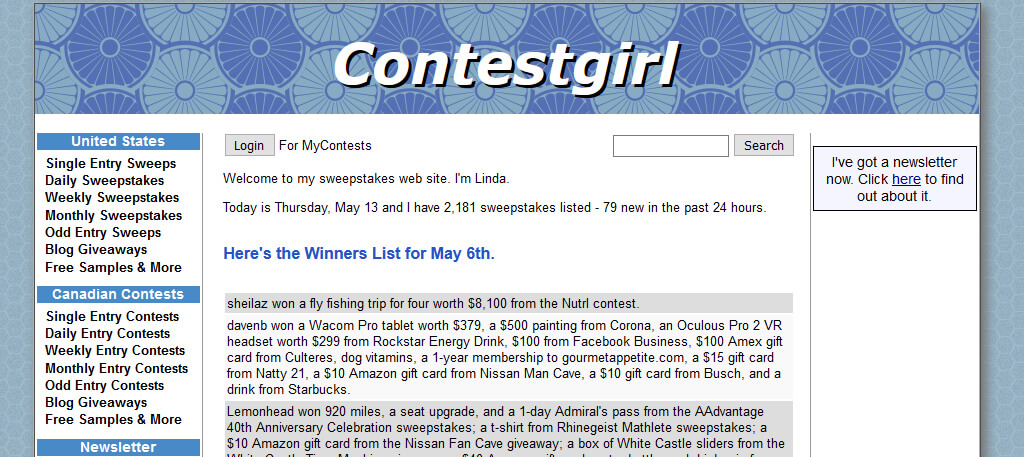 This giveaway site recently removed its free listing option. You will need an account to join and submit giveaways. A basic guaranteed listing is $49, while Pro listings which include social media promotion are $149. If you want a video promotion, expect to pay $449. Julies Freebies offer a trustworthy giveaway promotion service.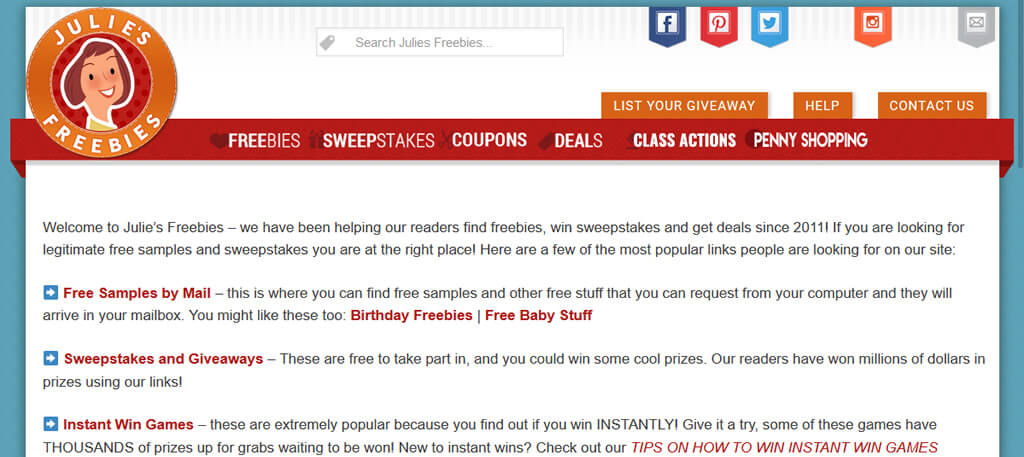 The next suggestion is Giveaway Frenzy. Although there are several premium tiers to consider, this sweepstakes site still offers a free 7-day listing on their "Latest Giveaways" page.
For featured placement, you'll be asked to pay at least $19.99. Aggressive promotions and placements offer pricing around $100, which includes submission to over 100 additional contest sites.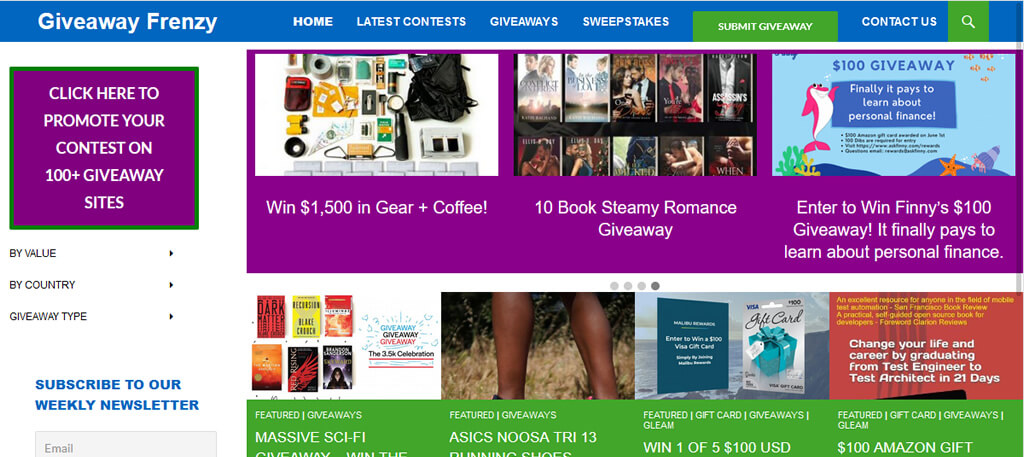 Basic listings for this site begin at $1.50, while featured listing upgrades at $3. Once you submit your listing, your promotion lists on the website within 48 hours. Featured listings receive carousel placement, while the more expensive tiers offer several additional benefits.
Giveaways include iPads, $1,000 gift cards, and similar items at those price points.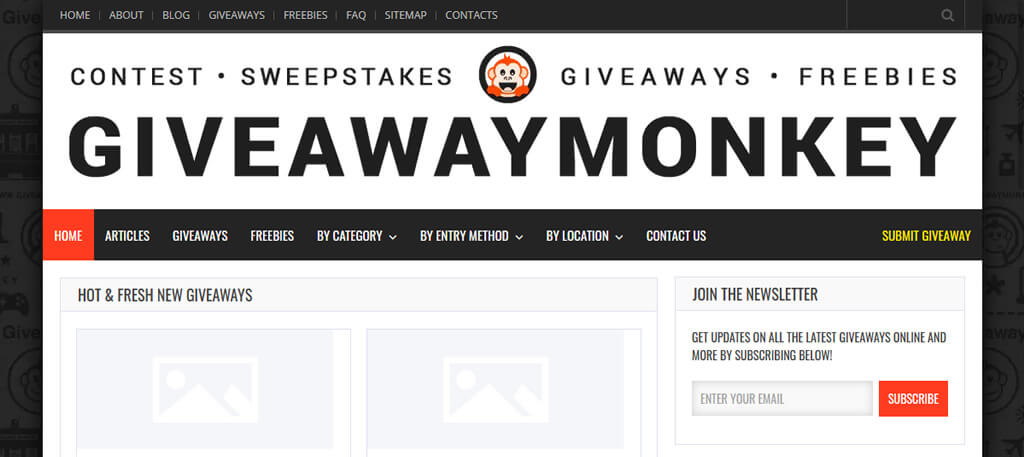 This is also a great site to place and enter giveaways. Unfortunately, there are no plans to promote your giveaway contest for free, but it does feature a standard listing for $5. Your giveaway posts within 48 business hours, including a prize image, and it stays listed until the end date.
You'll find $700 gift cards to Amazon, iPhones, and unique product giveaways featured on this site. The value ranges from $25 items to an iPhone XS Max.
Over the past few years, Giveaway Promote has delivered dependable and profitable giveaway promotion services to over 100,000 brands and bloggers.
Giveaway Promote giveaway marketing service will help you get more visitors and entries if you're hosting a giveaway, sweepstakes, or contest.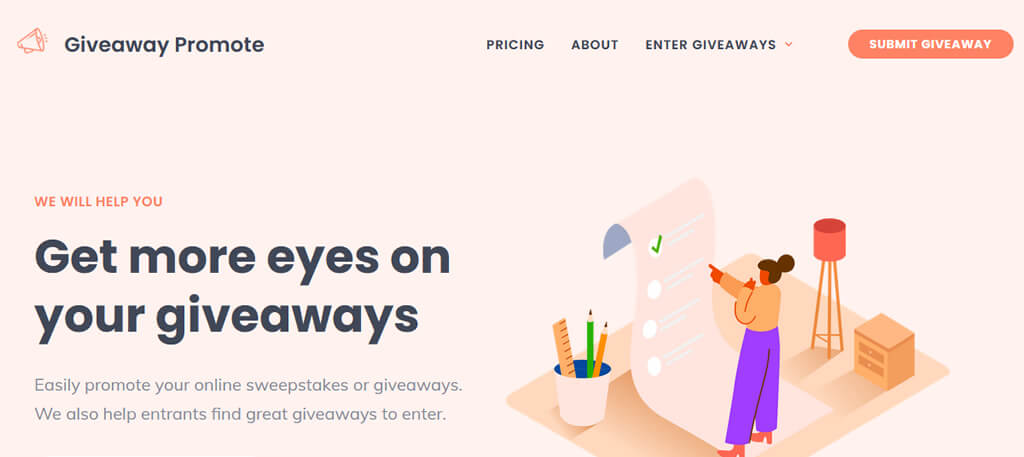 This sweeps site is restricted to the United States only. The prize must be available for anyone to win, though restricted listings are possible. A minimum prize value of $25 is required for the listing to be approved.
The site also charges a minimum $25 listing fee. You'll find prize values topping $10,000, however, making it a possible investment worth making.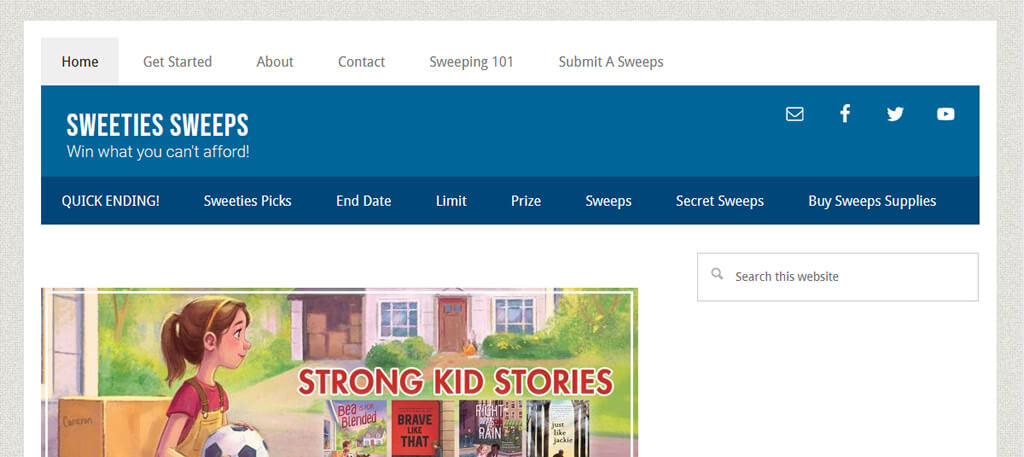 ILoveGiveaways.com is a website to create great lead gen for free. It's a database of Sweepstakes, Giveaways, Instant Win Games and other promotions found all over the internet. ILoveGiveaways is a simple site that aggregates the top sweepstakes online.
They are a free service that collects the information that is most important and posts it into one central location with a direct link to the entry page.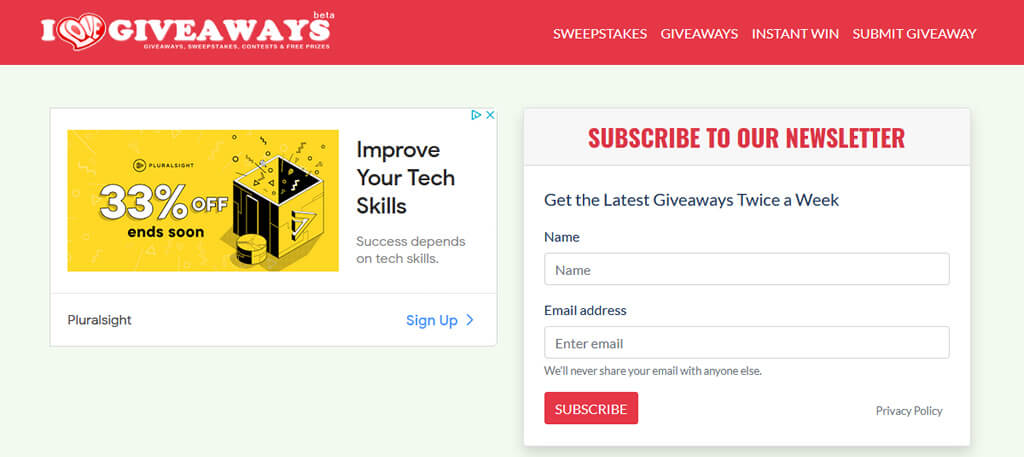 GiveawayBase is a website that compiles all online giveaways in one location and also hosts giveaways for its fans.
They ensure that everybody has an equal chance of winning an award. Try now - submit and promote your contest!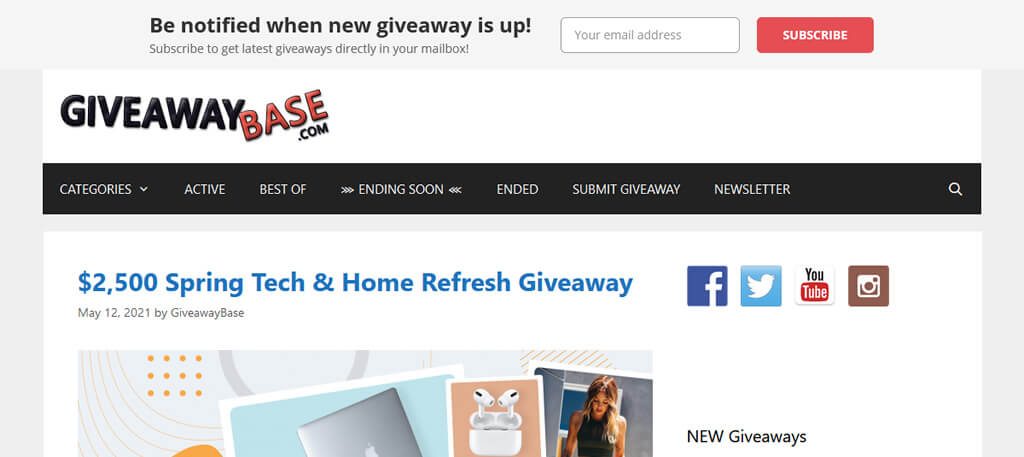 Winasweepstakes has free cash prizes with daily winners. They have a highly engaged audience that loves entering online sweepstakes and contests.
This website created to promote your contest requires a free account. You will attract thousands of users with your giveaway!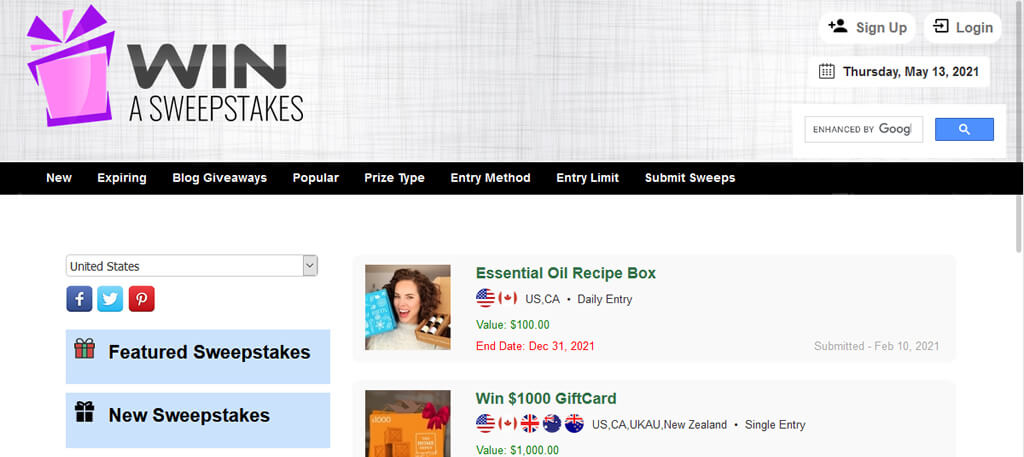 TotallyFreeStuff.com is based in Ottawa, Canada, and receives the majority of its traffic and membership from the United States.
Business mandates in the coming years are to increase content for other consumers in Canada and the United Kingdom, reflecting their willingness to help English speakers save around the world. To send an offer, you must be a member of Totallyfreestuff.com. Let contests manage your leads!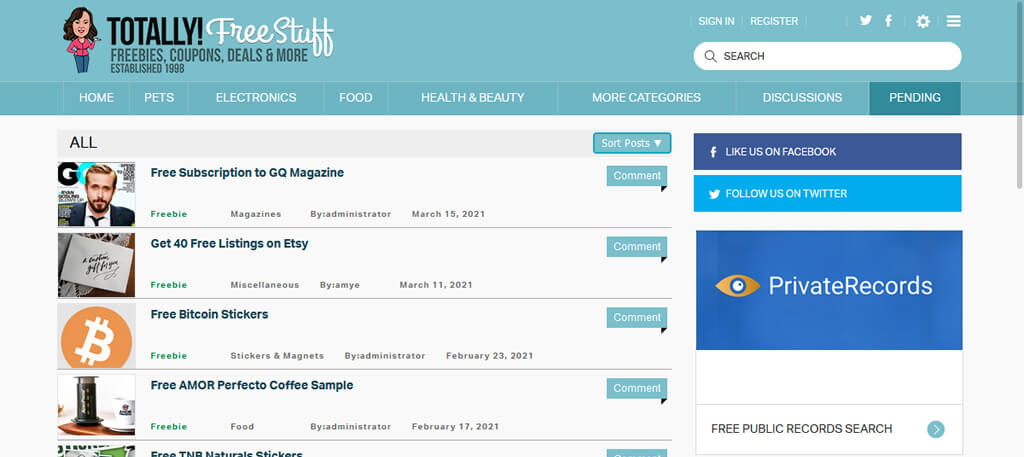 Get Started on Your Giveaway Promotion Today!
Submitting your giveaway is a low- or no-cost way to gain extra exposure for your event. These are the sites with the most reliable reputations for building traffic.
Get started today to begin collecting more entries. Then the rest of the promotional work is up to you!
We hope you'll find something from this list of contesting websites to post your contest.
Check this link for more websites to Post Your Giveaway for Free.
Run your own giveaway!