It's no secret how important email lists are in today's marketing world. With so many companies vying for your attention, how do you stand out?
This blog post will show how to do a giveaway to grow your email list. Don't wait for leads to come to you!
An email has proven itself one of the most engaging channels of communication that a business can use. A giveaway is a way of collecting an email address by incentivizing a prize but it also captures the art of advertising and email collection in one campaign.
Giveaways are a way to grow your email lists quickly with relevant leads. In this article, we will show you how to do a giveaway and reap the benefits of increased lead-generation opportunities.
Why You Need to Expand Your List
Contests are a powerful way to get people interested in your business and build an email list. Without one, you're leaving money on the table.
Why is it important to build an email list?
By creating an email list, you have the ability to send messages into anyone's inbox without any constraint.

You can customize the messages to the needs of users and possibly receive feedback on the services preferred by the customer.

Emails are very personal and direct. Personalization helps email marketing go from average to perfect.

Your subscribers are much more likely to become buyers.
Advantages of Using Giveaways to Grow Your Email List
Aside from being an incredibly rapid approach to develop your email list, running a contest has other advantages, including:
Giveaways are a cheaper marketing technique than paid advertisements such as Facebook ads.
Contests can increase awareness of your products and boost revenue.
The subscribers you gain through giveaways are people who are actually interested in your products or services.
Contests are an easy way to bring more people into your business. The sense of urgency is irresistible, leading your followers to take immediate action.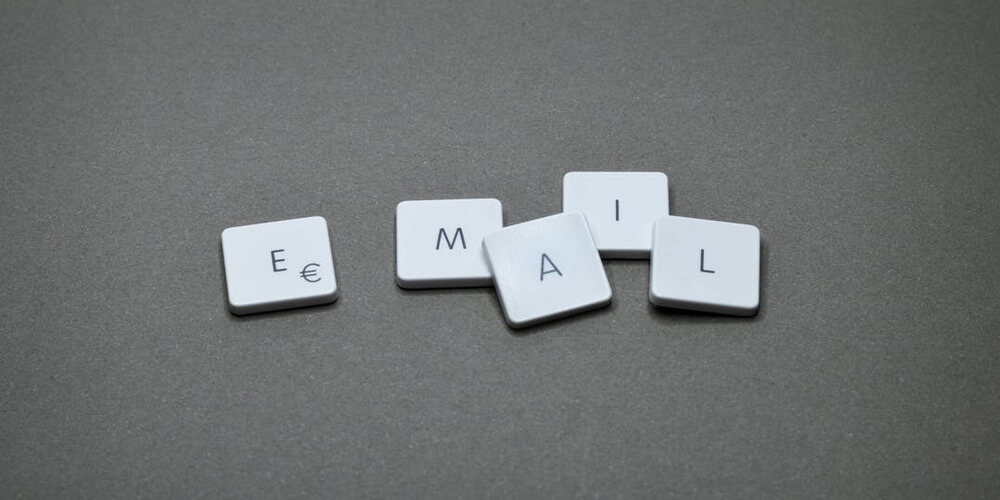 Run your own giveaway!
Steps to Grow Your Email List with Giveaways
Take a minute to think about what your upcoming giveaway should be. Here are some tips for making sure that you run a successful giveaway!
Come up with a Giveaway Prize
The first thing you need to think about is what the prize for your giveaway should look like. Make sure that it would appeal directly to your target audience. A valuable prize can make people talking about your successful contest so that you'll have new leads.
You can offer one of your own products if you're an e-commerce store. This might be a great option because it allows you to interact with customers and offer bundles, but it's not always appropriate for every business.
The next option is to offer a voucher for one of your products. You can also make this more appealing by including the opportunity to upgrade or add on an item at the checkout, which will help you gain more profit from customers who are already shopping with you and may be interested in another product!
A third good idea would be to offer a gift card. This will allow your customers to find anything on the website they want. A cash prize is the simplest thing to offer for your giveaway.
For more inspiration, check out our list of giveaway prize ideas.
Promote Your Giveaway
Once you publish a giveaway to your email list, it's crucial that you promote the giveaway in order to generate excitement.
Promoting your contest is key to its success. You want your giveaway to go viral, and the best way to do this is by getting exposure through various forms of advertising and marketing channels.
Sharing your contest across all of your social media channels is one of the simplest ways to promote it. You can do it in some Facebook groups or Reddit threads where your audience is actually hanging out.
Don't forget about your personal social media accounts like your Facebook page and others.
You can also promote your giveaway in the following ways: tag a friend in the comments to increase exposure further. You need to start promoting weeks before you go live to drive tons of traffic from the day you launch.
Check out our list of contest promotion ideas for even more help to make your giveaway go viral.
You can submit a photo to send to your email list and email subscribers. Remember to post your giveaway to your blog every day for help to drive it into a massive audience of more subscribers.
The promotion stage is where you've reached the point of no return and your giveaway will either be a success or failure. This is the time when you need to combine all your skills, resources, and time together in order to ensure that everything goes according to plan.
Select an Email Marketing Software
Choosing an email marketing service provider is another thing you need to do to run a giveaway to help you expand your email list.
An email marketing software is a platform that allows you to build and manage email marketing campaigns so that you can send out any email communication, from email newsletters to promotional emails.
You have a wide variety of email marketing software on the market today. There are many out there that can suit your needs, so take some time to explore what's available and see which one is the best for you!
Connect Your Email Marketing Service
When you run a giveaway on Socialman, you can connect to your email service provider so anyone who signs up for a newsletter will end up on your list. And in the end, you'll collect email addresses.
Socialman offers integration with tools such as:
ActiveCampaign
AutoPilot
ConvertKit
Get Response
iContact
MailChimp
Mailjet
Omnisend
SendGrid
Sendinblue
Think about Entry Methods
Once you have your prizes in mind, think about the different entry methods and what you want people to do.
If you're looking to grow your email list with Socialman, we have an action for you!
Users who complete the Sign up for a newsletter action, they'll be sent to the designated email marketing software list.
This action allows you to sync all the people who enter your campaign with any email provider that we integrate with.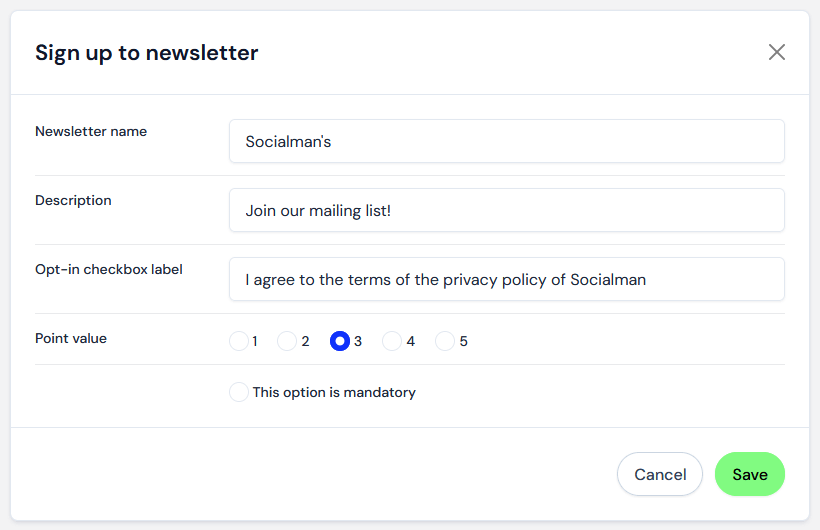 Use Your Data
As your campaigns continue, you collect an increasing amount of data that you can use in the future. After the campaign is over you've got so much data at your fingertips that you can start using it in your email campaigns.
Socialman is a powerful tool that offers detailed statistics that can survey the effectiveness of your giveaway and give you all the information you need to know about your audience. Such as country, referral, URL, browser, user information, and many more!
When your goal is to grow an email list, it's important to analyze the results of a giveaway. You can determine which contests drove the most traffic by calculating how many new subscribers you gained vs. before and by analyzing web data such as engagement rates on social media posts or comments left in response to blog content about your contest promotion strategy.
Then use those insights for future giveaways. You'll know where to put more resources and energy for future giveaways!
Choose a Winner and Let Everyone Know About It
The end of the giveaway is really just the beginning. Remember, your goal wasn't to build up a big list of people for no reason but rather you wanted them to be a great fit for your business!
So at the end of a giveaway, thank everyone and announce the winners. A great tactic for turning regular contestants into customers is to offer them some discount. You can say something like. "You didn't win but, in response to the amazing interest in this contest we have decided all participants get 20% off their next purchase".
Thanks to this, you will not only enlarge your e-mail list but also turn the list of potential contributors into customers almost immediately. The offer converts exceptionally well because it is precisely matched with what customers signed up for.
This means your marketing efforts won't go to waste, and your giveaway will end up a huge success for your business.
To make your job as easy as possible, Socialman offers an option to randomly pick a giveaway winner.
How to Collect Emails from Socialman Contest Participants
All participants must enter a valid email address to participate in your giveaways. Your collected emails are exportable as CSV files through all giveaway options.
Now Is the Time to Start Growing Your List With Giveaways!
If you are looking for an easy way to grow your business faster than ever, then it is time to start using giveaways. With a giveaway, you can get people engaged and interested in what you have to offer - which makes them more likely to become paying customers later on.
So don't wait for leads to come knocking at your door! Giveaways give businesses the perfect opportunity to build their email list of subscribers who want updates about upcoming promotions or other offers from that company.
Don't wait for potential leads to come to you! You have access right now - take advantage and sign up for our free trial today!
Run your own giveaway!