Running a social media contest can be an exhausting process. You have to come up with a creative idea, find prizes, promote the campaign, and track entries - to name just a few tasks. But some tools can make your life easier!
In this article, we'll compare the best social media contest platforms to help you find the perfect solution for your viral giveaway!
A social contest is a promotion aimed at your social media audience. These promotions can rapidly grow your email list in a short time and build brand awareness. Running a social media contest can be an effective way to increase your brand visibility and customer engagement. Whether you're promoting something new or celebrating a product launch, contests are a great tactic to use.
A social media giveaway can be as simple or complex as you want it to be. You could keep your promotion straightforward and just ask people to share their email on Facebook for a chance at winning, or you could involve multiple steps like asking people to follow your Instagram account first before they enter the giveaway. Whatever type of campaign you choose, it is important to pick the right social media contest tool.
So the question is how to do it...
To find the best social media contest platform, it is essential to understand your goals. Whether you are looking for a way to generate more sales or create engagement with your followers and friends on social media, there's always an appropriate tool out there. Make sure that you choose one that will meet your needs so that nobody feels left out of the scope.
A contest platform gives you a place to build your campaign and collect entries, so many different features come with each one. But at their most basic level, they all allow people to enter by providing some sort of response or comment on social media.
Grow your email list: Social media contests are a great way to grow your email list and get new followers on socials. You can attract new people quickly with 100% engagement from your followers.
Increase traffic to your website: You can drive traffic to your website by getting people to share your contest across social media networks and online communities.
Grow your business: Social contests have the power to generate greater engagement with the company's target customers or followers. This can result in higher sales conversion rates due to the increase in the number of followers.
Increase Brand Awareness: Social media contests can also help increase brand awareness and customer loyalty - you'll be able to use the giveaway as a marketing tool and showcase your products or services in front of more people.
Here are the best tools to help you run a successful social contest:
Run your own giveaway!
Socialman
Socialman is a free contest software designed to create giveaways through different social media channels. The app is easy to use and offers all the right features for running successful giveaway contests.
Unlike other apps, Socialman does not have any limits on the number of contests or participants, accounts, or actions for your giveaway.
The app enables you to create giveaways for Facebook, Instagram, Twitter, Pinterest, Twitch, Discord, Steam, Spotify, VKontakte, and YouTube!
Socialman has 10 email marketing API integrations i.e., Mailchimp, GetResponse, ActiveCampaign, etc.
Socialman's goal is to provide a simple way of connecting with their followers through giveaways or contests while at the same time increasing brand awareness across multiple networks!
More than just managing entries, it provides multiple tools such as voting widgets, surveys, polls, and quizzes for creating social giveaways.
Socialman has a variety of functionality that is perfect for savvy social media marketers. Socialman's campaigns can be promoted across any medium, including social media and email so really anyone with an internet connection can take part in your campaign.
Pricing
The free plan does come with some limitations, but you still get access to a lot of great features like an unlimited number of giveaways or random winner selection.
A lot of social media contest platforms come with a hefty price tag. Thankfully, Socialman pricing is low enough to not be an issue for most people and it doesn't sacrifice any features in the process! And that's just one feature amongst many-to-count.
Paid plans start at $10/month and scale up based on your needs.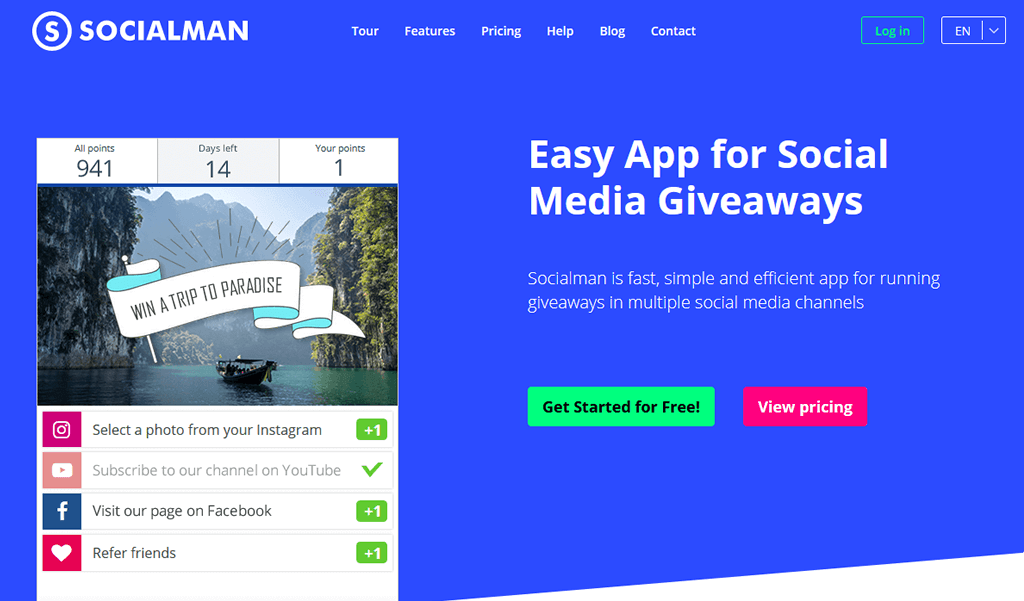 Gleam
Gleam is a marketing platform with several tools to grow your business. One of these tools is their Competitions app, which allows you to create social media contests for your brand. Gleam tracks users on whether or not they complete the actions for your giveaway. The platform is available with four apps – Competitions, Rewards, Galleries, and Captures.
Gleam is an easy-to-use platform with templates for every type of event imaginable. It also provides functionality for setting up landing pages and prize draws.
Gleam is one of the most popular social media contest platforms on the market today. Its easy-to-use interface lets you run just about any type of contest imaginable from giveaways to sweepstakes or even photo contests where you ask people to vote on their favorite selfies!
Gleam provides many benefits as well as a few disadvantages. The greatest drawback to using Gleam is its limitations and restrictions on features for each plan.
Pricing
Gleam offers four apps – Competitions, Rewards, Galleries, and Captures. The tools cost $10-$29/month each or you can pay $97 for the full package (discounts offered on yearly subscriptions).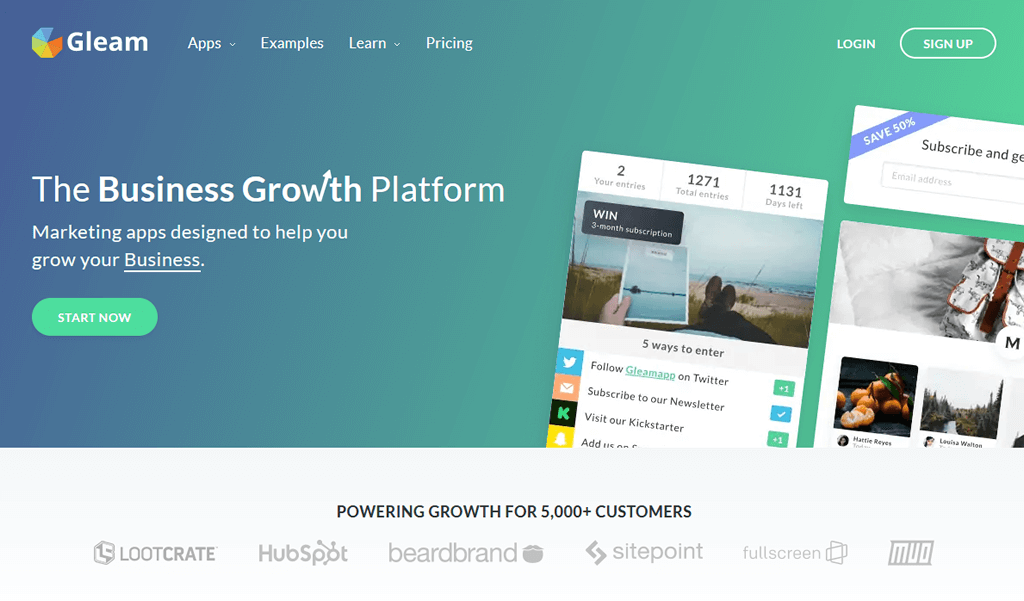 Woobox
Woobox is a free online giveaway tool and makes it easy to create online contests for your brand. It has a drag-and-drop giveaway builder, and you can run sweepstakes, photo contests, video contests, polls, and others, across Facebook, Twitter, Instagram, YouTube, and Pinterest.
Over four million brands use Woobox, and it's easy to see why it's so popular. With Woobox, you can create a social media contest and launch it in no time.
If you're looking for a social media contest platform that integrates with Mailchimp and has an in-built email marketing component, Woobox should be your first stop. Users can track entries easily by using Woobox's built-in analytics dashboard to see who is coming from where and which posts are getting the most social buzz.
Pricing
The free plan gets your campaigns built and tested, and premium plans start at $37 per month.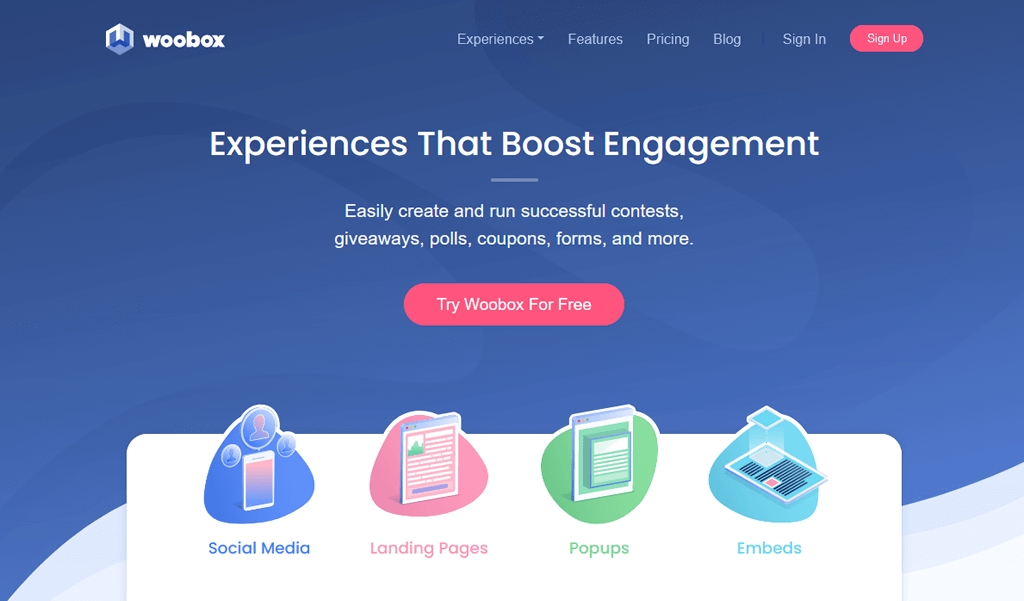 Rafflecopter
Rafflecopter makes it easy to create and run giveaways on your site. The giveaway app is designed to work with any website without any coding skills needed. The downside is that adding giveaway entry options is a bit more complicated than it needs to be.
Rafflecopter is another platform that makes hosting a giveaway or sweepstakes simple by seamlessly integrating with Facebook, Twitter, Instagram, and other popular networks. You can also use Rafflecopter as the backend for your own website if desired.
Pricing
The free plan has almost everything you need to get started, yet you'll need to upgrade to the grow plan to take advantage of email integration. Plans start at $13 per month for the Basic plan, but the Grow plan costs $43/month or Premium for $84/month.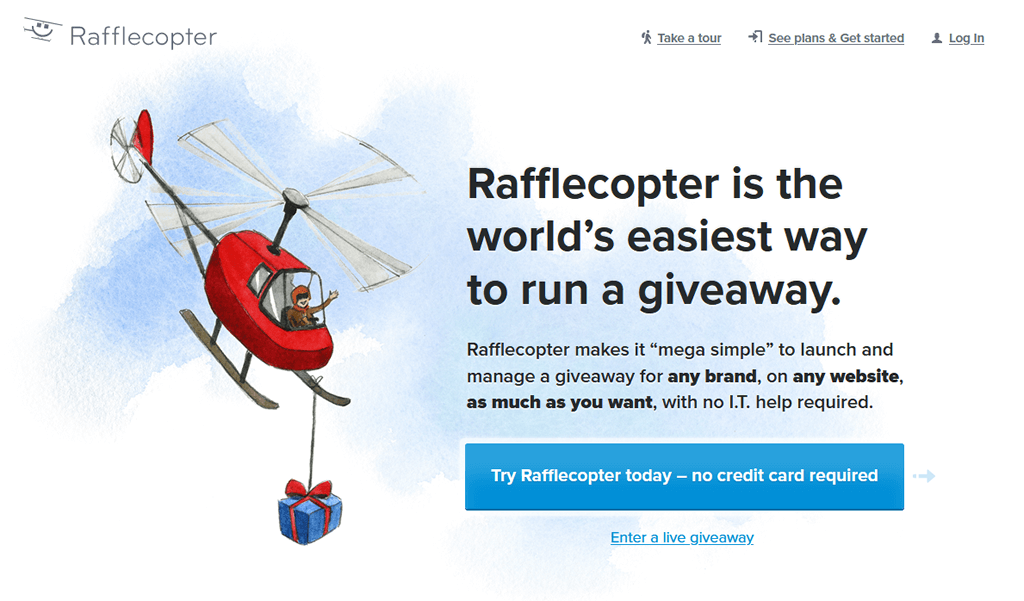 Conclusion
We've highlighted the best social media contest platforms to help you find a solution for your viral giveaway.
In the end, it's up to you to decide which social media contest platform is best for your needs. But with so many tools available and such a wide range of features, there are plenty of options that can make running a viral giveaway easier than ever before!
If you're feeling overwhelmed, don't worry! Socialman can take care of all these tasks and more so that you can focus on running your social media contest.
Run your own giveaway!